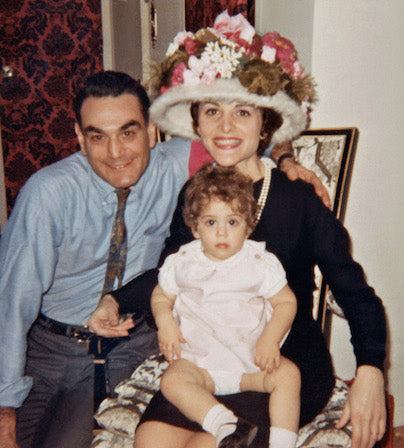 I've Always Been Like This
Welcome to the very first entry of From My Closet - the Better Dresses Vintage blog. The plan is to share thoughts, tips, and photos related in one way or another to vintage clothing. I suppose a good place to start is with me. So here goes:
I've been playing dress-up, and admiring beautiful clothes, for as long as I can remember. Gliding down my Gramma Helen's hallway in a flannel-sheet watteau train. Twirling in mom's old crinolines and circle skirts. I didn't want to be a princess or a fairy. I wanted to be a real person... with impeccable, elegant style.
And I had my own fashion icon to look up to. Here's mom, standing in the one door of her red Isetta, in June 1958. Who wouldn't want to look like that?
And here am I, circa 1967, sitting in the lap of luxury. Oh, that marvelous hat!
I've always felt I was born in the wrong era. Sure, I appreciate indoor plumbing, anesthesia, and the right to vote, but why can't we have all that
and
be properly dressed for a Jane Austen or Edith Wharton novel, or a Cecil Beaton photo shoot?
Right up until 7th grade, when mean girls finally broke my resolve, I steadfastly refused to wear anything but dresses and skirts to school. Who would want to wear jeans when they could don this fetching number?
And so it went, all my life. '70s: Everybody's burning bras; I'm thinking corsets sound wonderful. '80s: Pledge formal in its final hours and my sorority sisters have kicked off their shoes. Even my date has swapped bow-tie for tie-dye. But I'd sooner bleed to death from blisters than go barefoot in my custom-made, trapunto-bodice gown. '90s: Coworkers cheer the arrival of Casual Friday; I long to wear over-the-elbow white doeskin gloves and a black velvet opera coat. Ah, me.

To this day, the three words I dread most on a printed invitation: Black Tie Optional. Why optional? Why? Doesn't everyone know how wonderful it feels to dress up? Why deprive yourself?
But gone are the days of dressing for dinner, or for travel, or the theater, or for worship. It's all just come as you are. And in my opinion, that's a real loss. There is something wonderful about getting dressed. Really dressed. Pulling yourself together and putting your best foot forward. Not only does it make you look good and feel good, it tells others, "I respect you enough to present to you my very best self."
Luckily for me, I found a husband who not only appreciates a woman who dresses like a lady, he enjoys the occasional formal event himself. It's true, there was one straight guy out there who likes to dress up, and I found him. Of course, I always knew that the man I'd marry would own, not rent, his tuxedo. Here we are in December 2000, heading out in our very own clothes to the office Christmas party. And yes, those are long white gloves and a velvet opera coat. Happy, happy me.