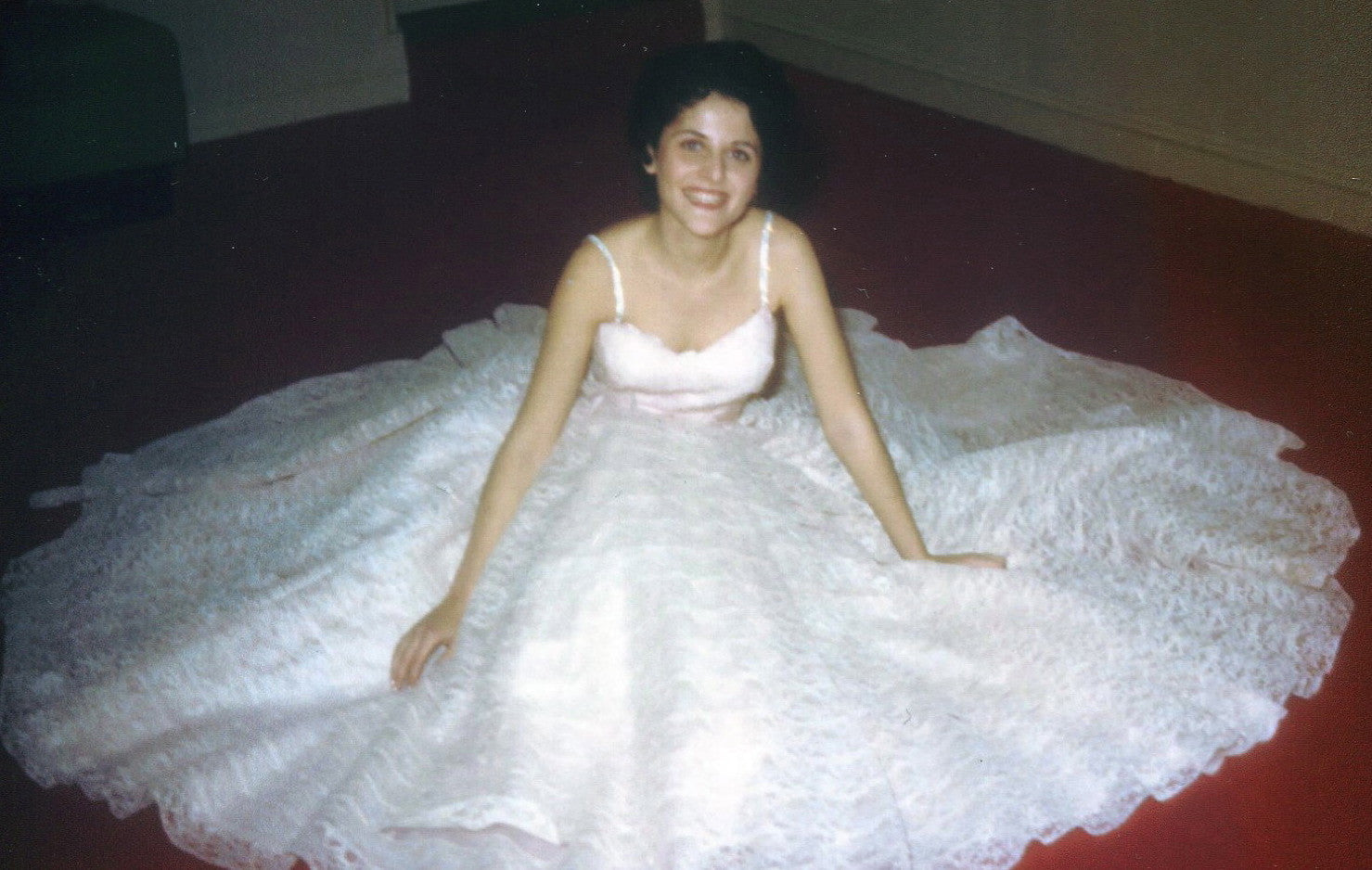 The Pink Dress
I think most of us have an outfit we will never forget. Made by someone important to us, purchased for a particularly special occasion, or worn at a formative time in our lives, these clothes become far more to us than their fabric and stitches.
They become the embodiment of our memories. Sartorial ghosts that haunt us all our lives. They are the ones we kick ourselves (or curse our mom) for getting rid of. The ones we wish we could wear again. The ones we wish we could still fit into, if only to feel once more the way we felt when we first wore them. Our personal histories are woven into our clothes. 
Have you ever thrown away an item of clothing (even one you really loved) after something bad happened while wearing it? Surely the dress wasn't to blame. But the emotions and the memories become so tightly bound to the article, you can't bear to wear it. Or even look at it. The dress you wore to dinner when he told you he'd met someone new. The sweater you had on when you learned a loved one had died. The fabric becomes imbued with bad mojo. You can't wash it out. The thing just has to go. Be gone from my closet, evil wrap-front dress! 
But then there are the ones we love. Love beyond any realistic appraisal of their fabric or label. Sure, sometimes it's a splendiferous example of near-couture perfection. But more often it's just the one that made us feel our very best. Whether from a local shop or home sewn, for school or for a party. We remember and long for the clothes we can't forget.
I have two. 
The first was made by my mother, and was, truly, the best dress I've ever owned. I remember her fitting it on me, and my thinking, "Wow! Can this be real?" Now, considering I am almost 46 years old, and sit surrounded by nearly 400 hand-picked dresses spanning three centuries of style, that's saying something. I've had plenty of dresses. And in this business, I see a whole lot of clothes that take my breath away. I love dresses. It's really not that difficult to make me swoon. But my favorite dress tops them all. 
It was pale purple with short, puffy sleeves. Crisp cotton. It had a white organdy pinafore with tiny, purple embroidered flowers along the edge. It barely reached below my bottom. I was 3 years old, and it was absolutely divine. It is this dress that made organdy my all-time favorite fabric. I just couldn't believe how beautiful it was. How perfect in every way. The color, the feel of the fabric, the details. Oh, to have that dress back, although my youngest child is now too big to fit into it. But it's gone. My mother, being oddly unsentimental, felt no need to keep it. 
And even worse, I have been unable to locate a single photograph. It's as if it never existed. Although made and worn for a specific occasion -- the sort that usually means lots of family photos -- there is no record of this dress. I've asked every relative still living who attended the event. No one remembers the dress. No one has a photograph. Frankly, I'm beginning to wonder if I didn't make the whole thing up.
But then there's the second. The pink dress. One that, once in my own highly sentimental hands, was not going anywhere, that's for sure. Here are photos of my mother wearing it at her brother's wedding on Nov. 19, 1955. She is 19 years old. My grandmother, a designer of ladies' neck wear in the 1910s and 20s, had made it for the event:
Boned bodice with rhinestone straps. Endless rows of lace individually sewn to a top layer of netting, over a more-than-full-circle underskirt. Satin bustle-style cummerbund at the waist. Perfectly typical for a formal occasion in the mid-1950s. Lovely, yes. Nothing extraordinary.
But to me, it was exceptional. And when my mom handed it over as a plaything when I was about 11, well, it was like winning the lottery. No horsehair crinolines (she'd given me at least three), lace-trimmed petticoats (several), or even her enormously full black-and-white net circle skirt (sewn herself) could top this pale pink perfection.
My love of all things dress-up had been long established by then, and I could not believe something this exquisite had been dropped, literally, in my lap. I wondered how a gown so incredible could have occupied our house, shared the same space as I all these years, without sending out a siren song from the cedar closet? How had I not known? But here it was, to do with as I pleased. And I could not believe my good fortune.
My paternal grandmother took the photo below. I recall thinking my 7-year-old self well turned out in mom's black + white net skirt beneath a few petticoats and completed with my early 70s poncho, yellow Easter bonnet and tiny French market-style basket. Hmm.
But the moment I had the pink dress in my possession, the rest of mom's New Look treasure trove lost a bit of luster. Within a year or so, the pink dress fit me. I wore it at every possible opportunity, including a few I created for just that purpose! Here I am with my best friend (the ballerina in purple) at an April 1979 costume party. I've gone as Scarlet O'Hara, adding shawl, hat, snood, and hand fan for the full Southern belle effect. 
Flash forward a couple years. The dress fits better, but the straps are long gone. I've tucked the tips of the bodice into the cups of my 50s bustier, creating a sweetheart neckline of sorts:
I threw a "Bal Masque" (masquerade party) for my friends in junior high, just so I could wear the dress again. And when I performed as part of the chorus in my high school's production of "La Cenerentola" (Rossini's opera version of Cinderella, and no, actual vocal talent was not a prerequisite for participation), well, here I am after the show, with my father and little brother outside the school auditorium. This time, I added my rhinestone tiara and jewelry (I was playing nobility, after all):
I wore the dress whenever I could. Each costume or Halloween party offered one more chance to put on the pink dress and leave the house with impunity. I'd say I was Scarlet O'Hara, but really, it was just an excuse to wear the dress. How sad that no real-life event required it. 
Eventually, childhood was over.  Mom may have worn it to a wedding at age 19, but for me, the party was over. There was no more pretending. I rolled the dress up gently, put it in a large shopping bag, and stuck it in the cedar closet. Then off to college and on to real life. 
Years later, mom mentioned the dress in a sad way that said, "Of course it's long gone now." I can't say she was all that shocked (she does know me well) when I retrieved it from the top of a hall closet. But the poor dress. Lace split in several places on the bodice. Skirt netting torn here and there, leaving rows hanging lower than they should. Hemline no longer pink, more of a muddy gray. But wait! I was a grown-up. I had a job and some savings. I could pay to have it cleaned! So I did.
Not pristine, but definitely improved. Alas, I could do nothing for my ribcage and bust which, three babies later, would not abide the miniscule bodice. I could stuff my expanded middle into the 24" waist, displacing newly acquired mass above and below. As I've mentioned, comfortable is overrated, and who needs to breathe so much? But ribs aren't so forgiving. And the metal zip wasn't budging. So here is the plan...
With all the money I'm going to make with this vintage clothing venture (insert chuckle here), I'll fix the dress. Give it a new life. Make it fit, make it wearable, and find a place to wear it. The 10th wedding anniversary came and went with nothing but brunch at the pancake house. But there's still anniversary 11, 12, and all the rest. Sometime before I go from "well-preserved" to "golden girl," I will have a good seamstress mend the lace bodice. She can remove the lower rows of the skirt, everything below mid-calf. This will eliminate the sad gray hem and provide some still-pink lace for gussets to accommodate my middle-aged ribcage and bust. We can replace the rhinestone straps (though I'd bet I have them stashed away somewhere), or fashion a new neckline. In the end, I hope to have something similar to this:
No, it's not exactly what my grandmother designed and sewed for my mother in 1955. And some purists might argue that it's "against the rules of vintage" to rework it. But it would give my beloved pink dress another chance to be worn and enjoyed. First by me, and perhaps in a few years, by my daughters. And isn't that what dresses are for? To be worn?
What about you? What outfit from your past brings back the best (or worst) memories? Which dress do you wish you still had, or could squeeze back into? If you're willing to share, I would love to hear about it, and see your photos, past and present.