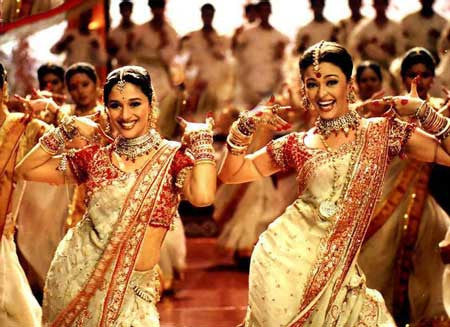 Bollywood Wannabe, That's Me
Dekalb County, Georgia, a suburb of Atlanta, has a large and fast-growing immigrant population. Today, my husband and I took our three little girls to Dekalb's international festival held less than 2 miles from our home. The weather was glorious. Sunny, breezy, and around 70 degrees F (that's 21 degrees C). The less-than-glamorous parking lot of our local shopping mall was transformed by a vibrant mix of sounds, smells, and colors.
Diverse musical acts graced the sound stage and the fragrance of exotic cuisine -- from India, Jamaica, Ethiopia, and more -- wafted through the air. Most fairs have bounce houses and face painting for the kids, and this one had those typical attractions, plus more unusual offerings. Here, my eldest daughter gets her hand henna'd:
   
We sampled exotic foods and picked up brochures on not one but two refugee and immigrant assistance programs (I was interested in volunteer opportunities). We watched a video promoting an upcoming tour by China's Shen Yun dance troupe and a rainbow of kids sliding on burlaps sacks down a very tall, pink plastic slide. We learned that there are more than 200 languages spoken in our county of just under 700,000 people!
I, of course, gravitated toward the displays of beautiful ethnic clothing. At the same booth where my daughters had their hands decorated with henna, the jovial Roger Singh of IndoWesternBazaar displayed his fabulous Indian outfits. This one was particularly beautiful (and particularly expensive). 
I have no idea where I could wear such a thing, but I'd certainly feel like Princess Jasmine! Unfortunately, it cost several hundred dollars and did not come home with me. But Mr. Singh said they could make any style I liked from "lighter fabrics" at reduced cost. 
This one was simultaneously patriotic and exotic, and the photo fails to capture the rich colors and intricate embellishments:
A few stalls down I found these heavenly soft cotton-gauze dresses from Ethiopia:
I loved the tucks on the bodice and the embroidered trim. But once again, the prices were prohibitive. My favorite yellow-trimmed dress cost $150, and the smiling proprietress, shown above, offered no discounts:
I'm hopeful that my good friend in Addis Ababa can hook me up! She's already brought over as wedding gifts gorgeous Ethiopian bathrobes, which make Mr. BDV and me feel like African royalty whenever we wear them. But you know me -- I want that light-as-air, sweet and sexy dress! And I want one of those heavily beaded, lusciously colorful Indian outfits, as well. 
But where can I wear them? 
Would you ever consider donning ethnic clothing that doesn't represent your own ethnicity? None of the sellers suggested for a minute that I shouldn't buy and wear their clothing. They didn't look at me askance, or ask "Why do you want this?" So the notion that it might be disrespectful is not an issue. But would it look as if I were wearing a costume or auditioning for a Bollywood musical? Would I have to save my beautiful outfit for Halloween or a theme party? 
Could I find a way to wear, say, a sari on an ordinary day, in public, and not look ridiculous?
What do you think? Is it possible?