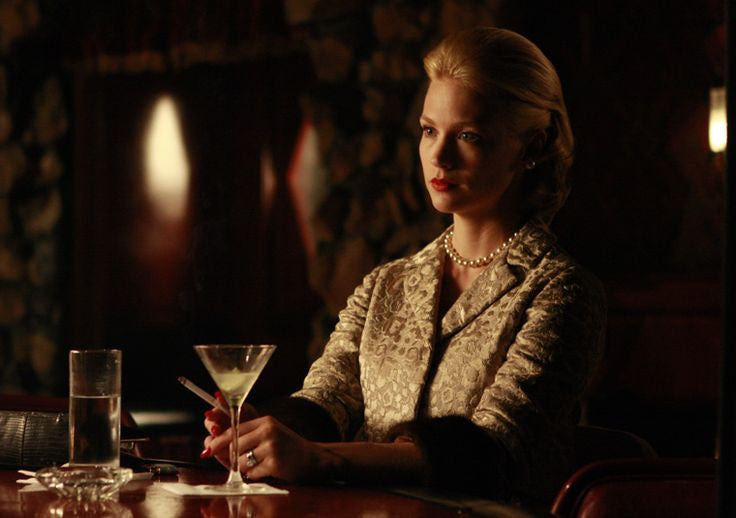 Not-So-Happy Hour: My Quest for a Cocktail Dress
In June, I'll be attending my 30th High School Reunion. I opted out of the 10th (too soon) and the 20th (nursing infant). But this time, I'm game. Visiting my hometown means airfare, taxis, hotel reservations, and the willingness of my husband to play single parent while I'm away. It's not just an evening out. It's a full-on trip. 
And I'm looking forward to it. I'll get to see the kids I've kept in touch with. The kids I hardly knew in school but have come to know and like through Facebook. The mean kids who, we'd hope, have grown up and out of the title.
It should be fun. But, as anyone who's attended high school can attest, the question of what to wear to this event is particularly fraught.
I need a dress that's appropriate for the occasion, the venue, the hour, the season, and my particularly sophisticated hometown crowd. I need something that's figure-flattering, but not overly revealing. Something that's reasonably modest, but not at all matronly.
Most important, I need to feel completely confident, because no matter how secure we may be in our present, few would deny the lingering spectre of adolescent self-doubt. Sure, I'm 47, but like most people, I remain 17 (and vulnerable) at heart. Oh, boy. I don't need a dress. I need a suit of armor! Hey, chainmail can be sexy, right?
My first step was to try on every vintage cocktail dress in my closet. There were plenty of lovely options, and I wear them all. But none said, "I'm the one!" for this event. Next stop, the BDV stock room. Nearly 500 dresses, and not one exactly right.
Of course, what I really wanted was this dress, "The Stars Tonight," which I told you about in this earlier blog post, and still mourn. I went so far as to contact the lucky buyer, who just wasn't ready to part with it yet. She knows that I and my check book are here, if that day ever comes.
Next, I put out a call to my seller colleagues. I received messages with photos of and links to a host of lovely options. And...
I found the perfect dress! A gorgeous, late 50s/early 60s black cocktail dress with a low back, shelf bust, and draped wiggle skirt, priced around $150. Perfect! I went to buy it, and it had sold the evening before. Ugh.
So, I hit the mall. Not willy nilly. No. I called ahead, explained what I was looking for, and enlisted a personal shopper at one of the high-end department stores at our toniest mall. I told her I was looking for a figure-flattering, knee-length, age-appropriate cocktail dress. I specified no price limit, as I wanted to see what you could get when money was no object. Well, folks, it ain't much.
Here's a photo of me (I've drawn a slip over my underthings) in the fitting room, surrounded by the 25+ dresses I tried on: 
This one fit well. But given the marginal length (with no hem to let down), the price, and the pattern resembling tiled walls in an inadequately ventilated shower stall, I kept looking:
This one was pretty, but too sweet for the occasion. With a $1,600 price tag and a waist in need of nipping, it didn't make the cut. And really, if I wanted a late 50s/early 60s Mad Men silhouette, I certainly know where to find one. Even with any necessary alterations, any vintage option is sure to cost a lot less and last a lot longer. 
The best of the bunch, the only true cocktail dress, and the only event-appropriate option, was this, which, at $995 plus the cost of alterations (waist too big, hem unflattering in back), simply wasn't worth the expense. It wasn't perfect, it was just better than the rest: 
Many more were never tried on, because they would have fallen 4-10" above my middle-aged knees, and, as with most modern dresses, had no hem to let down. 
Exhausted and frustrated, I left empty handed. An additional nine dresses the stylist thought might work eventually arrived at my home for trying on. All ended up back at the store.
How could it be so difficult to find a simple cocktail dress to meet my minimal requirements? Was I being unreasonable? I don't think so. Fact is, there are few modern options for women of a certain age. Our choices in the cocktail arena are short and shorter, i.e. unflattering or inappropriate. 
For now, I've decided to go with a dress I've owned for more than 10 years and last wore when I was 6 months pregnant. It's black stretch lace, with short sleeves (wish they were elbow-length), a deeply plunging V-neck, defined waist, and below-knee skirt. It's form-fitting, but not tight. My husband gave it two thumbs up. Add a vintage bag, some patent heels, and I'm set. 
How about you? Do you have difficulty finding flattering, appropriate modern clothes at reasonable prices? Do you wear vintage or modern to most special events?
Update: Here I am in my hotel room, wearing my old dress and about to head down to the ballroom for my 30th Reunion. It was a wonderful event, with a remarkable turnout (classmates.com said we had the highest attendance percentage of any class on record). 
For the farewell breakfast on Sunday I wore my favorite (vintage) 50s cotton sarong dress, dressed down with wedge espadrilles. I'm hugging my old friend Kim Mai*. We met in 7th grade when she'd just immigrated from Vietnam and didn't know a soul. I got to share with her the wonder and joy of seeing (and playing in) her very first snowfall. It was a magical and very moving experience:
* Sad update. As it turns out, this would be the last time we met. Kim-Mai Tăng passed away on April 11, 2023. I'm so glad we got to spend time together again, after so many years. She was beloved by many. May her memory be for a blessing.