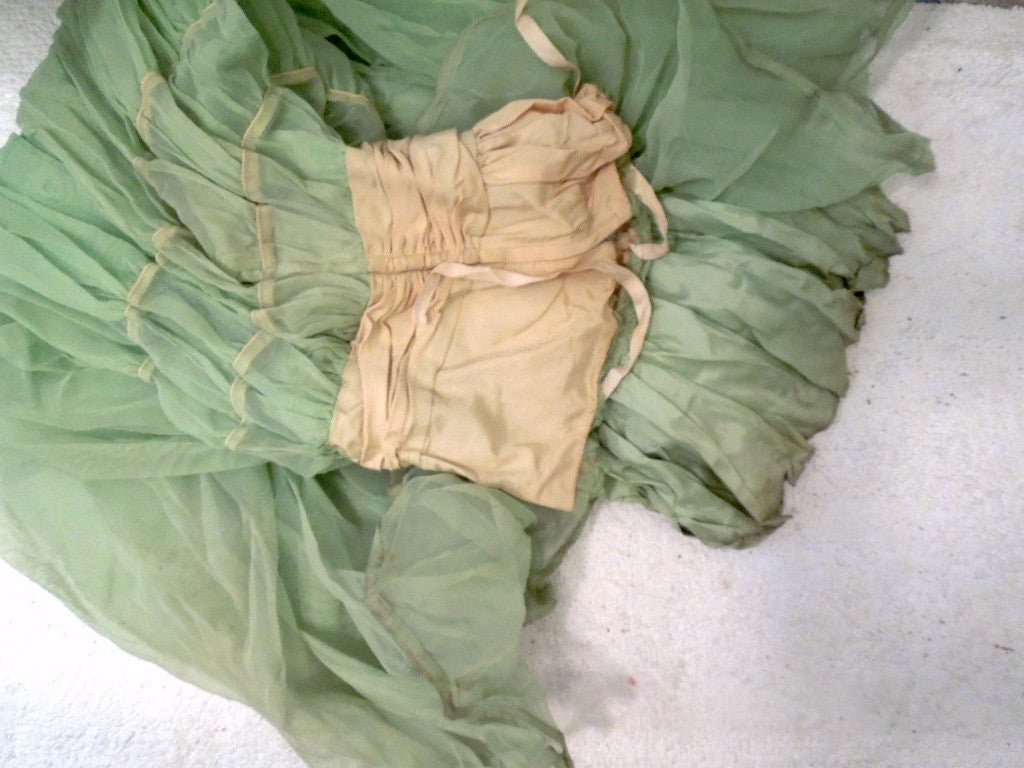 All Washed Up: Salvaging the Green Dress
Remember my telling you about my 30th High School Reunion, and how I had such a hard time finding the perfect dress? Well, that turned out just fine. I wore something "almost vintage," from my own closet. Here I am, dressed and ready to head down to the hotel's ballroom for the main event:
During my 4-day stay, a classmate presented me with a dress he'd rescued from his aunt's estate. So thoughtful, no?
But none too appetizing. And while I was very grateful, there was no way that the dress, in its current condition, was traveling back with me on the plane. A quick glance told me it might have been lovely in mid-20th century. But now it was crunchy. And smelly. And needed to be rolled up in a ball and stuffed in an airtight bag until I could tend to it properly.
The morning of my flight home, I walked over to the UPS store and bought a padded envelope. I then walked another few blocks to the post office (my hometown is good like that) and shipped it home.
When it arrived (even a package from yourself is fun to receive in the mail!), I set to work. First step: assess the condition, check for damage, and decide how much (time, effort, and money) to invest.
The shawl and sash/tie (it's a mystery) appeared to be stiff, rough nylon netting. A bit odd. The dress itself, while structurally sound, was filthy. And there were brown spots. If those were the work of a cedar chest, then the dress might be impossible to salvage. Dry-cleaning could be an expensive waste of time, as the stains would not come out and the dress could disintegrate from the chemicals.
I decided that my best option was to wash it myself. It was difficult to identify the fabric because of how dirty it was. If the dress were entirely acetate or nylon, it would probably turn out fine. Those fibers are sturdy and hold up well in water. If it were silk, it would get sparkling clean, but the brown spots would turn to jelly and slide down the drain (that's another story). If it were rayon, well, that's a crap shoot. I'd take my chances and see what happened. It was still safer than dry-cleaning, and all I had to lose was time.
Here is the cleaning process:
As always, I scrubbed and rinsed the tub thoroughly before beginning. The tub wasn't dirty. Quite the opposite. I had to clean away any leftover cleaning products, especially bleach. Ironic, I know.

Once that was done (and the Advil for my back had kicked in), I set the dress into a lukewarm bath of Vintage Textile Soak -- a powder that comes in the pretty floral bag you see below. It removes all sorts of stains and really brightens things up, but it's especially terrific on the brown blotches created by contact with wood (no, that cedar chest really isn't the best place to store your heirloom gown, unless you've lined the chest with clean white sheets and remember to change them every 6 months):
About 12 hours later, I had what my friend Fleck (of Jumblelaya) calls "vintage tea." Repulsive, isn't it?
A thorough rinse, and another 12 hours in Vintage Textile Soak. More rinsing. And then, I could (hand) wash it. Four times. With four full tubs of clear water in each rinse cycle. At the end of that, the water, and the dress, looked like this:
Wow, right? So gratifying. The crunchy wrap and tie, which had felt like netting because they were so filthy, turned out to be the softest tulle, and looked like this:
So pretty. Unfortunately, all that crunching had created a lot of holes. The shawl and tie, although wonderfully soft and floaty, now resembled swiss cheese.
But the dress was completely intact! I turned the dress inside out to make sure every bit of soap had been removed, rinsed it again, then lifted it carefully from the tub onto waiting towels. I rolled it up, sushi style, in the towels, squeezing gently to remove most of the moisture. I then unrolled it onto the drying racks. And, uh oh... notice anything not quite right? 
Yep, even with the dress inside out, I knew now what the outer layer of the dress was made of. As suspected, it was rayon. And this is what happens to old (and sometimes new) rayon when you wash it:
D'oh!
But wait. Wouldn't a tea-length party dress be more practical? I thought so, too! And off it went to Annie, our professional seamstress, who shortened the acetate lining and pressed the horsehair hem so it lay flat again. 
And here is the result of all that time, effort, and expense. A beautiful, late 40s/early 50s tea-length lime-green party dress, available now at Better Dresses Vintage.
No, it's not perfect (the tulle at the edge of the bodice didn't come through unscathed, and there are still a few brown spots hidden in the folds of the skirt). But it's bright (this is the true color), fresh, completely wearable (if you are a full-busted, small-waisted girl), and very, very clean!