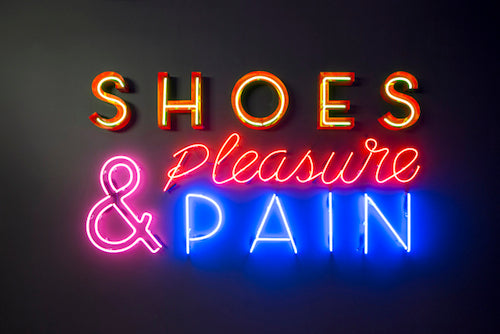 Exhibit Visit - "Shoes: Pleasure and Pain" at SCADFash
Back from the Shoes: Pleasure and Pain exhibit, which was chock full of amazing shoes spanning 2,000+ years!


Here's a review (originally posted as a "Note" on the
BDV FB Page
):
Photos were not allowed, as the exhibit belongs to the
Victoria and Albert Museum
, in London, not to
SCAD FASH Museum of Fashion and Film
. Why that matters, I don't know -- seems the more you share the more likely others will want to visit your exhibit -- but I don't make the rules. They said it was fine to share website photos, which is what I've done.
My favorite part was a display of immaculate 1920s and 30s shoes belonging to a single collector. Among the typical flapper t-strap, curvy-heeled shoes we're familiar with was a mind-blowing pair of knee-high, bright red, lace-up leather boots with high heels! Who knew?

Other pairs that blew my mind were from the turn of the first century (yes, really, shoes from New Testament days), several from the 15th, 16th, and 18th centuries, and the lotus shoes for bound Chinese feet (which are incredible and horrifying at the same time).


The shoes on display were quite diverse, representing every class of people, from all around the globe.


Chopines (to elevate you above the muddy streets), 1600s.
Not my thing, but definitely ahead of their time: 
Ferragamo Rainbow Sandals, 1938.
There were also a few interesting short films on continuous loop throughout the space.
Two aspects of the exhibit we could've done without:

1. For the bulk of the exhibit, the only information provided was accessible solely via a website app. Can we do nothing at all without looking at a screen? My mom, who doesn't have or use a smartphone was at my mercy to provide any details. What if she'd gone alone, or with another low-tech friend?

On a positive note, the lack of printed info created 200+ "Guess the Date" quizzes for me. Fun for a bit, but it got old fast. Sometimes you just want to look at what you're there to see, and not have to refer to a confounded screen. Get off my lawn!


2. The worst part for us was the annoying (OK, maddening) way the largest section of the exhibit was displayed: behind a solid black wall, with the shoes visible only through giant, eyeball-shaped peepholes! Some shoes could be seen only through a single peephole, and many peepholes required serious bending or even squatting to look through.


One of the many ridiculous sets of eyeball peepholes.


Mom and I agreed the peepholes were more about self-indulgence on the part of the exhibit designer than about showing off the shoes to as many interested, paying museum-goers as possible. My back was hurting by the end of that portion of the exhibit, and I'm not 81 (yet). Anyone in a wheelchair would be out of luck, as peepholes not precisely at eye level would be entirely inaccessible.
And really, is a glass case with standard, printed descriptions so awful? We came to see the shoes, so please, just show us the shoes and tell us what we're looking at without making us work so hard.

Admission to SCADFash is $10 (less for students, etc.), and you'll certainly gasp at many of the 200+ pairs of shoes on display, even if you're not a shoe fanatic (nb: exhibit is now closed). The space is beautiful, and there's a lovely outdoor terrace with sweeping city views where you can sit and relax after your visit.

Photos below belong to SCAD and the Victoria & Albert Museum.